Statehood Quarters Collection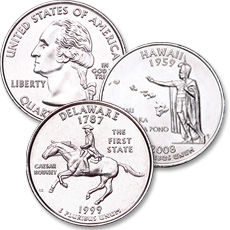 | | |
| --- | --- |
| Dates | 1999-2008 |
| Composition | Clad, 90% silver |
| Weight | 5.67-6.25 grams (see Composition) |
| Diameter | 24.3 mm |
| Edge | Reeded |
| Mints | Philadelphia (P), Denver (D), & San Francisco (S) |
Learn About Statehood Quarters
In 1999, the United States Mint launched the most popular commemorative coin program in America's history – the Statehood quarters. Each year, five new reverse designs were issued, reflecting unique attributes of the particular state. The original Washington obverse design was modified slightly by sculptor-engraver William Cousins to accommodate wording previously shown on the reverse. The mint continued to issue Statehood quarters, in the order that the respective states joined the union, through 2008.
Sparking interest in U.S. history and American coinage, the Statehood quarters were a great success during their years of issue, bringing an estimated 147 million new collectors to the hobby. And today, collectors are still looking for these coins to fill the holes in their collections! People enjoy the wide variety of designs, which represent each state's unique heritage. Plus, building a Statehood quarter collection is a great way to spend time with your family – whether you're searching together for that missing issue, or using the coins as a fun geography-teaching tool!

Find out how the designs and goals of the Statehood quarter program changed the face of America's coinage!

Learn about some of the more well-known Statehood quarter errors that have become valuable to collectors.

A handy checklist of 50 State Commemorative Quarters to help you begin your collection.
Composition
Statehood quarters were issued in the same standard composition as the preceding Washington quarters. Uncirculated coins made from a copper-nickel clad alloy were issued from the Philadelphia and Denver Mints, while both clad and 90% silver Proofs were struck in San Francisco. Measuring 24.3 mm in diameter, each clad piece weighs 5.67 grams, while the silver Proofs weigh in at 6.25 grams.
Ways to Collect
If you're just starting out, it may be fun to start rooting around in your pocket change and seeing what you can find. This is a great way to get started, but with so many designs, it may be difficult to find some of the states or scarcer mint marks. To build a quality collection it is best to purchase graded coins from a trusted dealer. For the easiest way to build your collection, consider joining Littleton's Washington Quarter Club – each month you will receive a selection of Statehood quarters for a 15-day examination period in your own home, risk free. If you discover any coins you like, purchasing them is simple, and if not, you can always return them at no cost to you. This is a convenient way to see and handle the coins before you buy, and a great introduction to Statehood quarters for a new collector.
Storage and Display
A complete year set of Statehood quarters contains 50 coins – a good reason to consider your options for storage and display! There are several ways to store your 50 State Quarter Collection: for the first-time collector, a Statehood Quarter Map Folder may be the simplest option. Or, you can select an easy-to-use Statehood Quarter Display Folder that has predetermined spots for each state, which along with our coin checklist will make completing your collection even easier! These folders only hold one coin for each state – if you're planning on creating a complete collection, a Statehood Quarter Album may be a better option as it has places for Philadelphia, Denver, and San Francisco issues.
Storage is incredibly important – you worked hard on your collection, and it deserves to be beautifully displayed! Find out more about caring for your coins.