Littleton's Custom Albums & Folders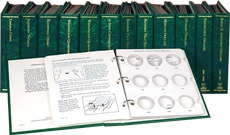 Littleton's sturdy albums feature 3-ring binder construction so pages lie flat for easy viewing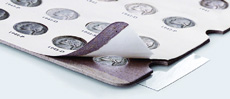 Heavy-duty construction for
long-term protection
Acid-free glues won't harm coins
pH-neutral coin board, safe and warp-free
PVC-free, crystal clear slides won't yellow
Acid-free papers to help preserve coins
Albums and folders provide a way to organize your collection by series, and help you track the coins you already own, as well as those you still need to find. You've spent the time searching for each of your coins, so you'll want to display and protect them. And Littleton has the solution...
Custom Coin Albums to protect your coins
Because Littleton Coin Company has helped collectors enjoy the hobby and build collections since 1945, it was only natural to develop an exclusive line of albums and folders. These custom albums and folders, which feature mintage figures and series information, have become the choice among many collectors. Littleton offers more than 40 albums that feature:
Archival-quality material to help protect your collection
Sturdy 3-ring binder construction that makes it easy to add or remove album pages
The durable pages with solid brass eyelets lie flat when the album is open for easy viewing of your coins
Labeled spaces for dates and mint marks for easy tracking of your collection
Here's what one satisfied customer recently said about our custom albums:
"I am proud to show my collection, but that increases a hundredfold when they are in your LCC Custom Albums. The albums are easy to use, and show the collection to the best advantage!"

–K.A., Topeka, KS
Economical Custom Coin Folders
In addition, Littleton offers over 30 economical custom folders. Also made with archival quality materials, the slim design makes for easy storage and display. The folders feature labeled spaces for dates and mint marks, and provide mintage figures and series information.
Personalize your Littleton Folders & Albums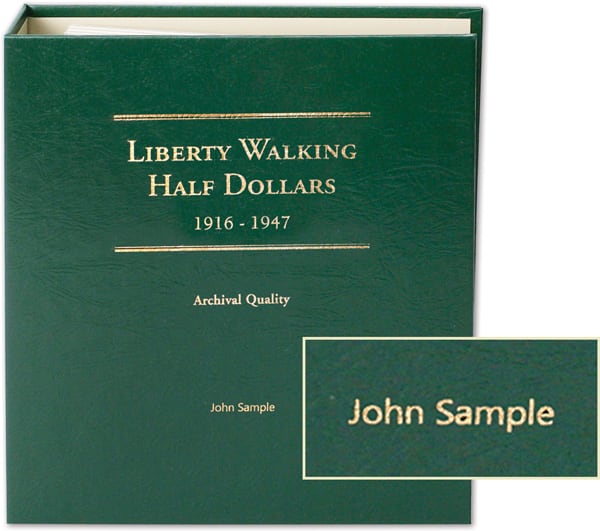 Your message embossed on a Littleton Custom Album in gold-colored foil
Elevate your collection with personalized custom folders & albums from Littleton! When you purchase any of our titles, you can add personalization. Make your collection uniquely yours, or give a gift that's truly personal!
Add your name or a special message – up to 30 characters max, including spaces. We'll emboss your message on the front in handsome gold-colored foil to match our titles. To add personalization, follow the instructions in your shopping cart when ordering online. (Personalized items cannot be returned.)
Protect your coins with our archival-quality albums & folders!