Caring For Your Coin Collection
Proper handling and storage of coins is not difficult and will maintain the natural condition (and value) of collectible coins. Appropriate care also helps preserve your coins for the benefit of future collectors.
Handling Coins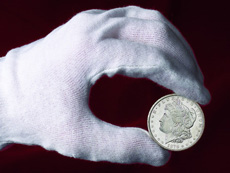 Coins should be held by their edges between thumb and forefinger.
Coins should be held by their edges between thumb and forefinger (see picture). This will protect coin surfaces and designs from fingerprints and the natural oils in fingers or palms that can be corrosive over time. In fact, many experienced collectors prefer to use soft cotton gloves when handling their high-quality Uncirculated or Proof coins. A wide variety of coin holders and albums are available from Littleton for easy viewing and examination of both sides of a coin without actual handling.
Cleaning Coins
Improper cleaning, more than anything else, has harmed valuable coins. High-quality Uncirculated and Proof coins should never be cleaned, as improper cleaning can cause permanent loss of original mint finish and color (and permanent loss of value). Experts can easily detect an improperly cleaned coin. Most experienced collectors and dealers agree that coins should only be cleaned by experts.
Storing Coins
High humidity, air pollution, salt air, and temperature extremes can sometimes affect the surfaces of coins. It is best to store coins in protective holders or albums, and to keep them in an area of relatively uniform temperature. As your collection becomes more valuable, you may choose to store some or all of your coins in a safe-deposit box. If you choose to keep your collection in your home, we recommend that you check with your insurance company to ensure that your collection is covered for its full replacement cost.
Littleton's premium albums provide archival-quality, long-term storage of your collection. Each one features labeled spaces for every date and mint mark of a coinage series, and clear slides to hold coins in place (allowing easy viewing of both sides). Albums are an excellent choice for all coins, from circulated to Uncirculated and Proof issues. Our custom folders are more compact and offer an attractive, affordable way to build a date and mint mark collection. Also made from sturdy, archival-quality materials, folders feature precision die-cut slots for ease of use, and include labeled spaces for all regular issues (no Proofs). Learn more about Littleton's custom albums and folders.
Frames are a great way to proudly display your collection with style! They're perfect for showing off that special set or collection. Air-Tite holders are made from hard plastic, and provide safe, long-term protection for coins in any grade. Sturdy, hard plastic holders are another excellent choice in coin supplies. Made of inert polystyrene, these 2″ x 2″ holders are perfect for display as well as safe, long-term storage.
See all storage options or storage by denomination.
Please note: The clear coin wrappers used by Littleton are sealed to provide protection for your coins during delivery, and easy identification and examination without removal. You can store your coins in these custom clear wrappers, or you can remove them for placement in albums, holders, or other storage containers (also available from Littleton). When returning coins, we prefer that you keep them in the clear wrappers. Littleton's colorful, exclusive Showpak® holders are custom designed for permanent storage and protection of your coins, and cannot be resealed once opened.