Statehood quarters Collection

The Statehood Quarter Designs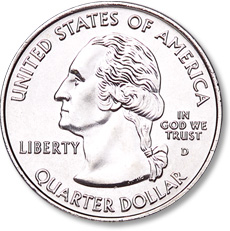 The quarter obverse was modified in 1999 as part of the Statehood quarters program.
In 1999, coin collecting changed forever. Under the Statehood quarters program, five new designs were issued per year for a total of ten years. Originally each state submitted artwork suggestions to the mint, with most final designs chosen by a vote of that state's residents. Beginning in 2005, individual states simply provided the mint with a written statement of desired concepts.
The goal of the program – and of each Statehood quarter design – was to spread awareness through the country about the heritage and diversity of America's 50 states. Starting with Delaware, each of the 50 states was honored in the order it joined the Union (or in the case of the 13 original colonies, in the order they ratified the Constitution). Coins were released at a rate of five per year until all 50 had been released. Each issue was unique and captured the essence of its state – from flora and fauna to historical figures and scenery.
For all the changes to the quarter, one thing remained the same – the portrait of America's first president, George Washington, still graced the coin's obverse. Though slight modifications were made in the design of his hair, the only major changes to the obverse were the addition of the inscriptions UNITED STATES OF AMERICA and QUARTER DOLLAR. LIBERTY and IN GOD WE TRUST remained on the obverse, although in new locations.
Since the release of the first Statehood quarter, rotating designs have appeared in other denominations – and two additional quarter series followed the wildly popular Statehood issues. These quarters truly changed the face of America's coinage!
Reverse Designs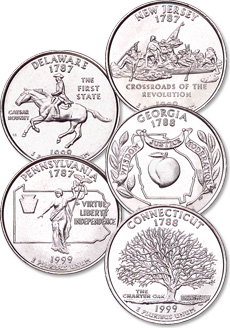 1999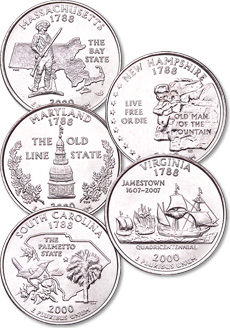 2000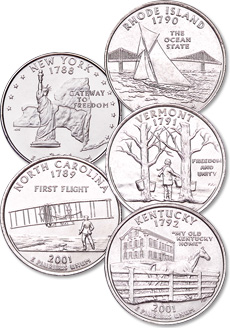 2001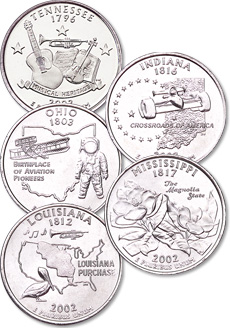 2002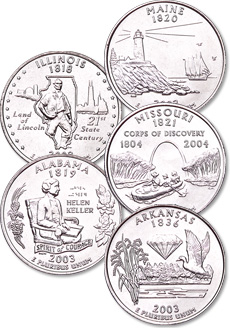 2003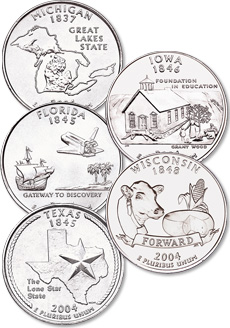 2004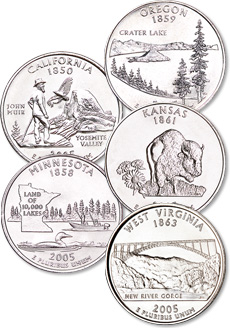 2005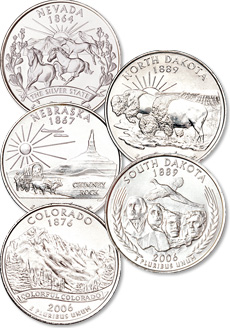 2006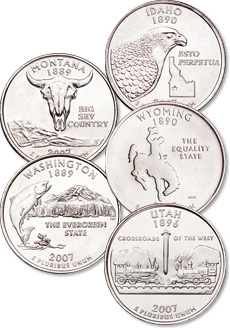 2007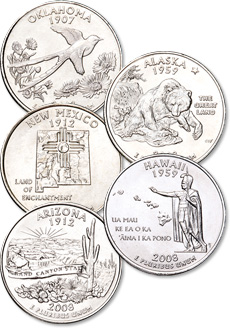 2008