US Women Quarters Collection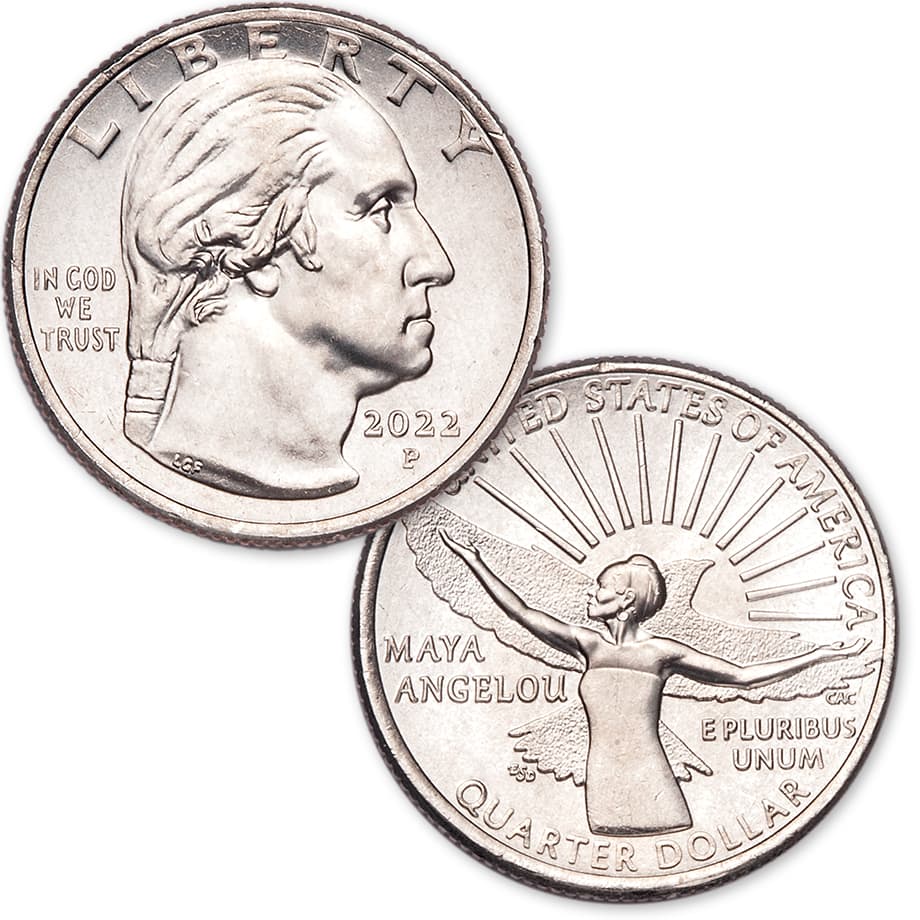 | | |
| --- | --- |
| Dates | 2022-2025 |
| Composition | Clad, 99.9% silver |
| Weight | 5.67-6.19 grams (see Composition) |
| Diameter | 24.3 mm |
| Edge | Reeded |
| Mints | Philadelphia (P), Denver (D), & San Francisco (S) |
Learn about US Women Quarters
Following the successful 2010-2021 National Park Quarters program, the U.S. Mint next initiated a commemorative quarter series to honor notable American women whose achievements contributed to the development of the United States. Starting in 2022, the U.S. Women Quarters program is scheduled to reveal five new coins a year, with one-year-only reverses through 2025. Once the scheduled ten-week production period is over for each issue, no more quarters of that design will be minted for circulation. The common obverse is a right-facing bust of George Washington by acclaimed sculptor Laura Gardin Fraser, the nation's first woman coin designer.
This newest quarter series introduces the public and collectors alike to women whose ground-breaking achievements changed the course of U.S. history. The series also allows collectors to discover the new generation of artists who are bringing fresh vision to U.S. coinage design. Assembling a collection of U.S. Women Quarters is a terrific opportunity to introduce young collectors to the collecting hobby, while also exploring little-known history with long-lasting impact.

Find out how U.S. Women Quarter designs compliment each woman and iconography from their revolutionary achievements!

This handy checklist of U.S. Women Quarters helps get your collection started.
Composition
U.S. Women Quarters are issued in the same standard composition as the preceding National Park and Statehood, D.C., and U.S. Territories quarters. Uncirculated coins made from a copper-nickel alloy are issued by the Philadelphia and Denver Mints, while both clad and 99.9% silver Proofs are struck in San Francisco. From 2022 to 2025, Uncirculated versions of the clad quarters will be issued by the San Francisco Mint and struck for collectors only. Measuring 24.3 mm in diameter, each clad piece weighs 5.67 grams, while the silver Proofs weigh in at 6.19 grams.
Ways to Collect
If you're just starting out, it may be fun to check your pocket change and see what you can find among the circulating U.S. Women Quarters. This is a great way to get started. But to build a quality collection of Uncirculated coins struck for collectors, it's best to purchase graded coins from a trusted dealer. One of the easiest ways to build a quarter collection is to join Littleton's popular Washington Quarters Club – each month you will receive a selection of quarters for a 15-day examination period in your own home, risk free. If you discover any coins you like, purchasing them is simple – and if not, you can simply return them. This is a convenient way to see and handle the coins before you buy, and a great introduction to Washington quarters for a new collector.
Storage and Display
A set of U.S. Women quarters is expected to feature 20 designs when the series ends in 2025. Reward your diligent work at collecting these quarters by protecting them in their own folder or album designed of archival-quality material and made in the USA. Visit our Learn Center to find out more about caring for your coins.