Presidential Dollars Collection
Learn About Presidential Dollars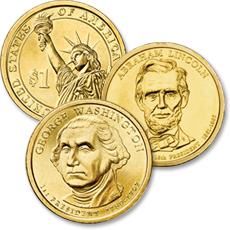 | | |
| --- | --- |
| Dates | 2007-2020 |
| Composition | Pure copper core, outer layers of manganese brass |
| Weight | 8.1 grams |
| Diameter | 26.5 mm |
| Edge | Lettered |
| Mints | Philadelphia (P), Denver (D), & San Francisco (S) |
In 2007, the U.S. Mint launched the exciting Presidential dollar program honoring U.S. presidents in order of service. Four new obverse designs were released per year, with each issue minted for about three months. Each obverse displays the name and portrait of the featured president, place in the order of service, and the years of presidency. The common reverse motif depicts the Statue of Liberty, the denomination stated as "$1" and the inscription united states of america.
When introduced in 2007, Presidential dollars were the first regular-issue U.S. coins with edge lettering in more than 200 years. Each coin featured the date of issue, mint mark and mottos e pluribus unum and in god we trust inscribed upon the edge. However, due to public concerns about its placement, in god we trust was moved to the obverse beginning in 2009.
Though the U.S. Government had hoped the Presidential dollar series would increase circulation of dollar coins, they have seen little commercial use to date. (Some officials believe elimination of the dollar bill would be necessary to spur the use of dollar coins.) So as a cost-cutting measure, the Treasury Department suspended production of Presidential dollars for circulation in 2012 and reduced future mintages to limited quantities for collectors.
The Presidential dollar series originally ended in 2016 with Ronald Reagan, as presidents must be deceased at least two years to be included. However, it was resumed in 2020 to include George H.W. Bush.

Find out how the designs and goals of the Presidential dollar program changed the face of America's coinage.

Learn about some of the more well-known Presidential dollar error coins that are prized by collectors.

A handy checklist of Presidential dollars to help you begin and keep track of your collection.
Composition
Minted in the same composition as Sacagawea dollars of 2000-2008 and Native American dollars of 2009 to date, Presidential dollars feature a pure copper core with outer layers of manganese brass comprised of 77% copper, 12% zinc, 7% manganese and 4% nickel. The outer layers give the dollars a "golden" color to distinguish them from coins of other denominations. Measuring 26.5 millimeters in diameter, both regular-issue and Proof Presidential dollars weigh 8.1 grams each.
Ways to Collect
Due to minimal circulation and use of Presidential dollars, the best way to build a quality collection is to purchase graded coins from a trusted dealer. Littleton offers a complete selection of Uncirculated and Proof Presidential dollars on its website at www.LittletonCoin.com, and you'll find a variety of single coins, sets and complete-to-date collections in our catalogs. You may wish to assemble one coin of each design, a "P&D" collection containing regular-issue coins of each design from the Philadelphia and Denver Mints, or a complete "PDS" collection containing "P&D" coins plus special-issue "S" Proofs from the San Francisco Mint featuring extra sharp images against brilliant mirrorlike surfaces. In addition to mint Uncirculated and Proof coins, you can enjoy Presidential dollars enhanced with vivid life-like color by Littleton's artists.
Storage and Display
There are several ways to store and display a Presidential dollar collection. For the first-time collector, Littleton's classic green Presidential Dollar Folder with labeled spaces for all regular-issue P&D coins is an economical option. For more colorful and informative display, you can choose Littleton's Presidential Dollar P&D Color Folder or our Presidential Dollar Deluxe Presentation Folder with spaces for one coin of each design. For greater protection of Uncirculated and Proof coins, Littleton's archival-quality Presidential Dollar P&D Album contains labeled spaces with protective clear slides allowing easy view of both sides of your coins. See our Dollar Supplies section to view and consider your options.
With proper and appropriate storage and display, you can fully appreciate and enjoy your Presidential dollar collection for years to come! Find out more about caring for your coins.