Caring For Your Paper Money Collection
Paper money, especially older issues, should be considered fragile and treated accordingly. The proper handling and storage of paper money is not difficult, and will maintain the notes' natural condition (and value). Appropriate care also helps to preserve them for future collectors, perhaps those in your own family.
Handling Paper Money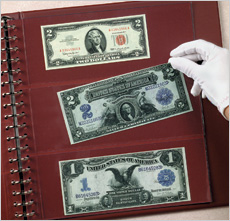 A large-size note is placed into a clear page of an archival-quality currency album using white cotton gloves.
Many paper money collectors use soft cotton gloves when handling their paper money. This protects the surface of the note from fingerprints and natural oils in fingers or palms that can be damaging to the notes over time. Also, notes should be placed in clear, inert currency holders or albums. A variety of paper money holders and albums are available from Littleton for easy viewing and examination of both sides of a note without actual handling.
It's strongly advised that you don't attempt to "clean" a note or use an eraser on it. Also, don't try to repair any tears with cellophane tape – that will damage the note and reduce its collectible appeal more than the original tear itself.
Storing Paper Money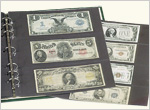 Littleton's exclusive 20‑page paper money album will hold up to 70 large- or small-size notes
Our Small-Size Currency Portfolio holds your U.S. & world notes
High humidity, air pollution, salt air, and temperature extremes can sometimes interfere with the storage of paper money. It is best to store notes flat in protective holders or albums, and to keep them in an area of relatively uniform temperature and humidity, out of direct sunlight.
Protect your growing collection
with our Paper Money supplies!