Security Features
The very latest anti-counterfeiting devices are combined with time-tested classics on the recently redesigned $100 Federal Reserve Notes. See below for details on how these features work to safeguard our currency.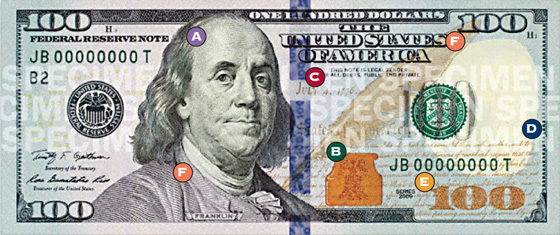 Specimen (sample) shown, not actual note

Enlarged portrait with background color
The portrait is larger, with more detail to make it harder to duplicate. In addition, there is a subtle background color on both sides.
Liberty Bell in the inkwell
The image of the Liberty Bell inside an inkwell on the face of the new $100 shifts from copper to green as you tilt the note. This makes the bell seem to "appear" and "disappear"!
3-D Security ribbon
(shown left)
In addition to the traditional security thread, the new $100 features a blue ribbon woven into the face. As you tilt the note, the 100s change to bells. The bells and 100s move as well, depending upon the direction you tilt the note.

Watermark
A watermark of Benjamin Franklin is located on the right side of the seal. It is part of the paper and can be seen from both sides when held up to the light.
Easy-to-read features
For the first time, a large gold 100 is printed on the back – offering higher visibility to those with sight impairments. And on the face, as you tilt the note, the 100 in the lower corner shifts from a copper-gold color to green.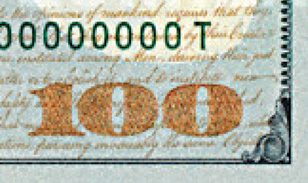 Microprinting
Extremely small, printed words appear in a few places on the new $100 – beside the quill, on Franklin's collar and around the watermark.