Morgan Silver Dollars Collection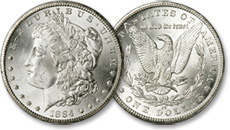 | | |
| --- | --- |
| Dates | 1878-1904, 1921 |
| Composition | .900 fine silver, .100 copper |
| Weight | 26.73 grams |
| Diameter | 38.1 mm |
| Edge | Reeded |
| Mints | Philadelphia (no mint mark), New Orleans (O), Denver (D), San Francisco (S) & Carson City (CC) |
Learn About Morgan Silver Dollars
Silver, Morgan dollars, and the Wild West! These words work magic on collectors and anyone who has ever held these big, shiny coins in their hands. Bold, beautiful Morgan silver dollars tell the adventurous tales of the mountain men, pioneers and prospectors who opened up the American West, and the families who made the western frontier their home.
These big, heavy 90% silver coins were struck using ore gleaned from rich western mines – like the Comstock Lode, which yielded $36 million annually at its peak! Large, handsome, and weighing over 3/4 of an ounce, it's easy to see why these historic silver dollars have earned the nickname "King of America's Coins"! The magnificent Morgan dollar was struck for 27 years, from 1878 through 1904, and one final time in 1921.
Learn about designer George T. Morgan and how he jeopardized the reputation of his model, Anna Williams.

Discover what date and mint mark combinations are sought after by collectors, including interesting and well-known errors!

A handy checklist of Morgan Dollars to help you begin your collection.
Composition
Big and bold, and weighing over ¾ of an ounce, it's easy to see why the handsome Morgan dollar has earned the nickname "cartwheel" and appealed to collectors for decades! For the entire life of the Morgan dollar, from 1878 to 1904 and one final time in 1921, it was struck in 90% silver. The Morgan dollar contains .77344 oz. of silver and at 38.1 mm, is about 1½″ in diameter. It also has a reeded edge.
Ways to Collect
To build a quality collection it is best to purchase graded coins from a trusted dealer. For the easiest way to build your collection, consider joining Littleton's Morgan Silver Dollar Club – each month you will receive a selection of Morgan dollars for a 15-day examination period in your own home, risk free. If you discover any coins you like, purchasing them is simple, and if not you can always return them at no cost to you. This is a convenient way to see and handle the coins before you buy, and a great introduction to Morgan silver dollars for any collector!
Storage and Display
A complete Morgan silver dollar date and mint mark collection contains almost 100 coins – a good reason to consider your options for storage and display! There are several ways to store your Morgan silver dollar collection: for the first-time collector, a Morgan Dollar album may be the easiest and most attractive option. This has labeled spots for each date and mint mark and holds a complete collection in just two volumes. However, if you crave freedom when it comes to what, and how many coins you will collect, a coin album with blank dollar pages will allow you to tailor your collection however you like. You could also begin by collecting just the first year of issue, in which case a Handcrafted Capital Holder would display your coins beautifully. For a sophisticated and stylish method of display, there is always the option of a presentation case.
Storage is incredibly important – you worked hard on your collection, and it deserves to be beautifully displayed! Find out more about caring for your coins.