US Innovation Dollars Collection
Learn About US Innovation Dollars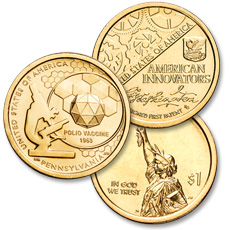 | | |
| --- | --- |
| Dates | 2018-2032 |
| Composition | Pure copper core, outer layers of manganese brass |
| Weight | 8.1 grams |
| Diameter | 26.5 mm |
| Edge | Lettered |
| Mints | Philadelphia (P), Denver (D), & San Francisco (S) |
In 2018, the US Mint launched the exciting US Innovation dollar program. Signed in to law on July 20, 2018, this $1 coin program honors an innovator or significant innovation in each of the 50 states, the District of Columbia and the 5 US Territories.
A single motif was issued in 2018 to introduce the series. It established the common obverse, which bears a dramatic image of the Statue of Liberty extending to the rim. The reverse features a representation of President George Washington's signature on the first US Patent, which was issued in 1790. After the inaugural 2018 issue, four new reverse designs are released per year – each minted for a limited time and then never again.
Each unique reverse of 2019-2032 features a design representative of an important innovation, innovator or group of innovators in each jurisdiction. Like Native American dollars, the US Innovation dollars feature edge-incused inscriptions of the year of issue, mint mark and motto e pluribus unum – Latin for "Out of many, one."
The reverse designs are issued in the order that the states ratified the US Constitution or were admitted to the Union. The District of Columbia and 5 US Territories will follow the coins for the 50 states. Just like Presidential dollars issued from 2012 through the end of the series in 2016, US Innovation dollars are being struck in limited quantities for collectors and will not be issued for general circulation.

Discover the innovators and innovations that helped shape today's world.
Composition
Minted in the same composition as Sacagawea dollars of 2000-2008, Native American dollars of 2009 to date and Presidential dollars of 2007-2016, US Innovation dollars feature a pure copper core with outer layers of manganese brass comprised of 77% copper, 12% zinc, 7% manganese and 4% nickel. The outer layers give the dollars a "golden" color to distinguish them from coins of other denominations. Measuring 26.5 millimeters in diameter, both regular-issue and Proof US Innovation dollars weigh 8.1 grams each.
Ways to Collect
Due to minimal circulation and use of US Innovation dollars, the best way to build a quality collection is to purchase graded coins from a trusted dealer. Littleton offers a wide variety of Uncirculated and Proof US Innovation dollars on its website at www.LittletonCoin.com, and you'll find a variety of single coins, sets and complete-to-date collections in our catalogs. You may wish to assemble one coin of each design, or a "P&D" collection containing regular-issue coins of each design from the Philadelphia and Denver Mints. You can also build a complete "PDS" collection containing "P&D" coins plus special-issue "S" Proofs from the San Francisco Mint featuring extra sharp images against brilliant mirrorlike surfaces. In addition to mint Uncirculated and Proof coins, you can enjoy US Innovation dollars enhanced with vivid color by Littleton's artists.
Storage and Display
There are several ways to store and display a collection of US Innovation dollars. For the first-time collector, Littleton's classic green US Innovation Dollar Folder with labeled spaces for each design in the series is an economical option. For a more colorful and informative display, you can choose Littleton's US Innovation Dollar Color Folder. For greater protection of Uncirculated and Proof coins, Littleton's archival-quality US Innovation Dollar P&D Albums and "S" Proof Albums contain labeled spaces with protective clear slides, allowing easy view of both sides of your coins. See our Dollar Supplies section to view and consider your options.
With proper and appropriate storage and display, you can fully appreciate and enjoy your US Innovation dollar collection! Find out more about caring for your coins.