Learn About $1 Federal Reserve Notes Collection
Learn About $1 Federal Reserve Notes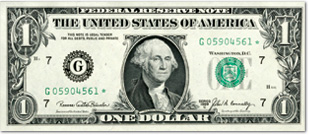 $1 Federal Reserve Notes make a great starting point for a paper money collection.
As America's most widely-issued currency type – and the only paper money issued today – Federal Reserve Notes are extremely popular with collectors! In fact, a $1 Federal Reserve Note collection makes a great starting point – and introduction to this currency type – for a majority of paper money collectors.
In 1913, a central banking system was established as a result of the Federal Reserve Act. This created a new type of note called the Federal Reserve Note (commonly referred to as FRN), issued by the Federal Reserve System. Today, these notes make up 99.85% of all paper money in circulation. They are backed by the Federal Reserve System, unlike Federal Reserve Bank Notes which were backed by the individual Federal Reserve Banks (of which there are twelve). However, FRNs are issued, or distributed, by the Federal Reserve Banks and each note carries a District Seal identifying the Federal Reserve Bank from which it came. (Read more: Federal Reserve Districts)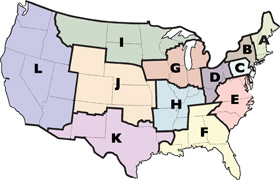 | | |
| --- | --- |
| A | (1) Boston |
| B | (2) New York |
| C | (3) Philadelphia |
| D | (4) Cleveland |
| E | (5) Richmond |
| F | (6) Atlanta |
| | |
| --- | --- |
| G | (7) Chicago |
| H | (8) St. Louis |
| I | (9) Minneapolis |
| J | (10) Kansas City |
| K | (11) Dallas |
| L | (12) San Francisco |
Unlike U.S. coins, the date that appears on U.S. paper money usually does not represent the date it was printed. On FRNs, the series date shows when a design was first used or modified. When a minor change occurs to a note (ie, a change in office leads to a signature change), a letter is added after the series date. All notes were printed at the Bureau of Engraving and Printing's facility in Washington, D.C., until the 1987 dedication of their western facility, located in Fort Worth, TX. Currently, America's paper money is printed in both locations (those printed in Fort Worth bear the letters "FW" next to the plate serial number).
Beginning in 1988, certain printings of $1 Federal Reserve Notes in Washington were tested on a web-fed press machine, which used paper from large rolls rather than individual sheets. Today, these notes are identified by the check number placed near in god we trust on the notes' back, and a lack of a check plate number on the notes' face. After a run of eight years, web-fed FRNs were discontinued.
Today, your options for building a $1 Federal Reserve Note collection are limitless. Whether you want to collect by signature, bank, series date, or more, you'll be able to form a perfect assortment!

Learn more about what's shown on a $1 Federal Reserve Note.

Read all about specialty notes like radars, repeaters and star notes!

Use this handy checklist to help you begin your collection.
Ways to Collect
If you're just starting out, it may be fun to start looking in your wallet to see what you can find. This can certainly get you started, but the process will be slower, the grades of the notes will be low, and older or scarcer notes will be difficult to find. To build a quality collection, it is best to purchase graded notes from a trusted dealer.
Storage and Display
There are several ways to store and display a $1 Federal Reserve Notes Collection. For the first-time collector, a Small-size Note Portfolio may be the easiest and most attractive option. This portfolio gives you easy access to all your notes, at the same time keeping them from harm. If filling an entire album seems daunting to you, individual pocket holders will allow you to start small.
Storage is incredibly important – you worked hard on your collection, and it deserves to be beautifully displayed! Find out more about caring for your paper money.