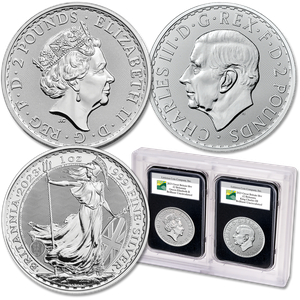 Since the beginning of Great Britain's silver £2 Britannia series in 1997, the obverse has displayed the portrait of Queen Elizabeth II. With the coronation of King Charles III in 2023, a new obverse design debuted, featuring his image. Now, you can own an exciting Transition Set that includes both coins bearing the 2023 date!
2023 Queen Elizabeth II – Last issue to feature her portrait
2023 King Charles III – First to feature the portrait that will continue throughout his reign
Reverses feature a traditional image of Britannia standing upon the shore in tribute to Britain's rich maritime heritage
Each shining Brilliant Uncirculated coin is struck in 1 oz. of 99.9% pure silver
Coins come in protective holders with special labels
The pair is presented together in a handsome display case
The important "last and first" year coins in this set are sure to be sought after by collectors – order now to own both exciting coins!