FLAT-RATE Shipping

– only $6.95, regardless of size!
Our
45-Day Money Back Guarantee

makes ordering risk free!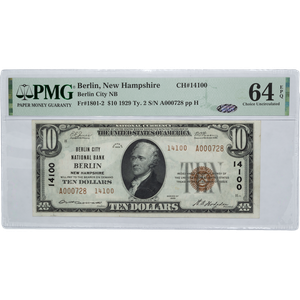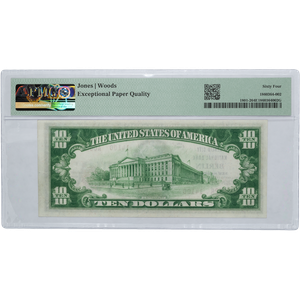 Don't wait to add one of these scarce Type 2 National Bank Notes to your collection. They were issued for just two years – May 1933-1935 – by the Berlin City National Bank of New Hampshire. We have a very limited supply of these notes, and expect them to sell out quickly.
These notes recall an era when federally chartered national banks bought U.S. government bonds to back the currency they issued. Easily distinguished by the eye-catching brown seal, Nationals were still conventional U.S. paper money, and notes from one town would be readily accepted by another. These $10 notes feature a portrait of Alexander Hamilton on the face and a view of the U.S. Treasury on the back. The bank's charter number of 14100 appears twice in black ink and twice in brown ink on each note's face, along with the Jones-Woods signature combination.
Graded by our experts and certified by PMG, all bear the Exceptional Paper Quality designation. Just 22 are known to exist, and the MS64 and MS65 notes offered here are among the finest. Add this scarce $10 note from the Berlin City National Bank to your collection before our supply runs out!