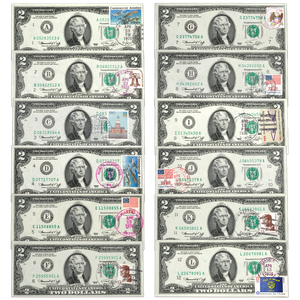 On April 13, 1976, for America's Bicentennial, new $2 Federal Reserve notes were introduced with backs featuring the famous painting . A limited number of the notes bear 13¢ stamps hand-canceled on April 13, 1976 to denote the first day of issue for the new $2 bills!
April 13 honors the original colonies and Thomas Jefferson's birthday (Jefferson wrote the Declaration of Independence)
Complete 12-note set contains $2 bills from all 12 Federal Reserve Districts
All 12 notes in Crisp Uncirculated condition
Hand-canceled 13¢ stamps denote official first day of issue for the Bicentennial $2 notes!
All 12 notes bear Neff-Simon signatures, while the designs and locations of the stamps will vary. Order this popular and patriotic complete 12-district set today while our supplies last!