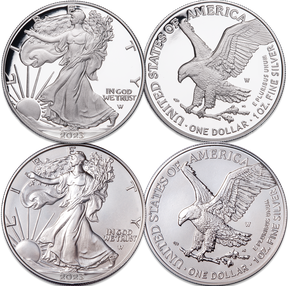 American Eagles struck in 1 oz. of 99.9% silver are among the world's most popular coins. The obverse features A.A. Weinman's revered Liberty Walking design for 1916-1947 halves, while the reverse bears a landing eagle. These special issues were struck at the Fort Knox of silver – the West Point Mint – which served as a U.S. silver bullion depository from 1937 until 1984, when it received full mint status. Buy both and SAVE!
2023-W Burnished Uncirculated – Struck on carefully polished dies, these limited-issue American Eagles for collectors feature a unique shimmering finish and superb eye appeal
2023-W Proof – Displaying sharp, frosted images against gleaming mirrorlike surfaces, these magnificent American Eagle Proofs are annual "musts" for any U.S. coin collection!