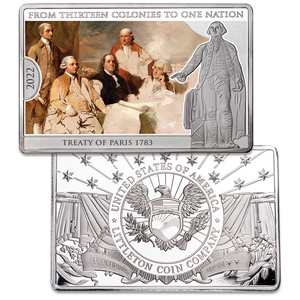 Save 30%!
---
Celebrate a critical moment from America's founding with this Littleton exclusive silver-plated copper bar!
2022 issue from Littleton's 13 Colonies to One Nation Series
Depicts the signing of the Treaty of Paris – the document that officially ended the Revolutionary War
Image is based on Benjamin West's painting
It features the U.S. delegation at the signing – John Jay, John Adams, Benjamin Franklin, Henry Laurens and William Temple Franklin
West painted each figure (with the exception of Benjamin Franklin) from life, and intended to show two British delegates at right. It's said that they refused to pose, and today the original painting remains unfinished
Each piece in this exclusive 13-bar series is crafted from 100 grams of copper and layered in 99.9% precious silver
Back features Littleton's exclusive eagle and shield design
Honor America's journey to freedom with this dynamic collection!