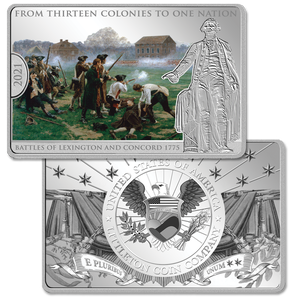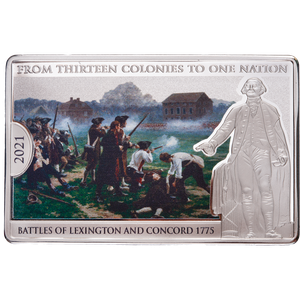 Save 30%!
---
Celebrate a pivotal event from the founding of America with this silver-plated copper bar!
3rd issue in Littleton's exclusive "13 Colonies to One Nation" series
2021 issue honors "the shot heard around the world" as the Minute Men unleashed a fusillade at British troops in the 1775 Battles of Lexington and Concord
Politically disastrous for the British, the back-to-back battles on April 19, 1775 inspired more colonists to take up arms and support the cause of independence
Each piece is crafted from 100 grams of copper that's layered in 99.9% precious silver
Front showcases the battles at Lexington and Concord, enhanced in full color, with an engraved image of George Washington at right
Back shows Littleton's exclusive eagle and shield design
Honor America's journey to freedom with this dynamic silver-plated bar!