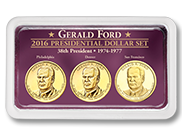 Save 24%!
---
Featuring the second 2016 Presidential dollar design, this Uncirculated and Proof PDS set in an exclusive Showpak® honors Gerald R. Ford, who served as the 38th president from 1974-1977.
Uncirculated P&D coins struck at the Philadelphia and Denver Mints in limited quantities for collectors only
Plus the premium-quality Proof coin from the San Francisco Mint
The "P", "D" or "S" mint mark, date of issue and motto

e pluribus unum

are inscribed upon the edge
Displayed in Littleton's colorful, informative Showpak holder
Honoring Gerald R. Ford, who took office upon the resignation of Richard M. Nixon, restored public confidence in government after the Watergate scandal, officially ended U.S. involvement in the Vietnam War, and signed the Helsinki Accords easing Cold War tension
Statue of Liberty reverse design
Add an Uncirculated and Proof 2016 PDS set of Richard M. Nixon Presidential dollars to your collection in a Showpak holder.