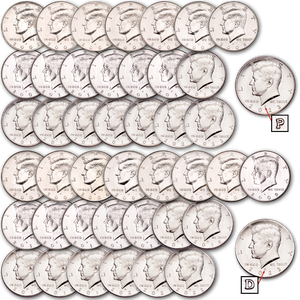 Because vending machines and other coin-operated devices don't accept 50¢ coins, Kennedy half dollars lost their usefulness in daily commerce years ago. So mintage was slashed beginning in 2002 to just enough coins for collectors, with few – if any – released into circulation. You can now get a complete Uncirculated set of the low-mintage Philadelphia and Denver Mint 2002-2023 Kennedy halves!
Complete set of 2002-2023 P&D Kennedy half dollars
All 44 coins in preferred mint Uncirculated condition
All low-mintage coins
Most of these limited-issue coins disappeared into collections immediately after issue, and they grow scarcer with each passing year. Order your complete Uncirculated 44-coin set today and SAVE off individual coin prices!