FLAT-RATE Shipping

– only $6.95, regardless of size!
Our
45-Day Money Back Guarantee

makes ordering risk free!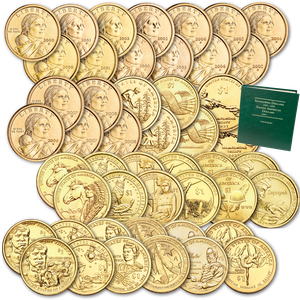 Own a complete P&D set of 2000-2023 Sacagawea and Native American "golden" dollars! You'll enjoy every regular-issue Uncirculated dollar of 2000-2008, displaying the original Eagle reverse. Plus, you'll get every lustrous Philadelphia and Denver Mint coin from 2009-2023, each featuring a one-year-only reverse design honoring Native American contributions:
2009 Agriculture
2010 Great Law
2011 Diplomacy
2012 Trade
2013 Treaty
2014 Hospitality
2015 Ironworkers
2016 Code Talkers
2017 Cherokee Syllabary
2018 Jim Thorpe
2019 Space Program
2020 Elizabeth Peratrovich
2021 Military Service
2022 Ely Parker
2023 Maria Tallchief
Every coin in the set features the common obverse depicting Lewis & Clark's Shoshone guide Sacagawea. This handsome 48-coin set includes am FREE custom album to display and protect your collection, plus you'll SAVE off the regular retail price.