FLAT-RATE Shipping

– only $6.95, regardless of size!
Our
45-Day Money Back Guarantee

makes ordering risk free!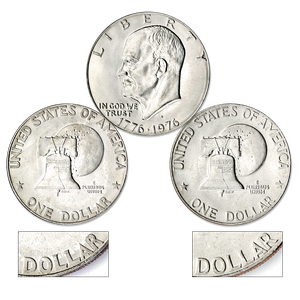 Occasionally after a new coin design is released, engravers make changes to improve the quality of the design. These changes can be drastic or subtle. In either case, collectors actively seek to acquire one of each design type. The Eisenhower dollars offered here were struck at the Denver Mint for only two years. They were first struck in 1975 with block lettering on the reverse.

Partway through 1975, the reverse design was sharpened and the lettering was changed to produce a more attractive design. This new Type II design would continue to be used until 1977 when the Bicentennial reverse design was discontinued. Because the Type I was struck only partway through the first year of issue for the Bicentennial design, the mintage is much lower than that of the Type II design. In fact, only 20% of the Denver Mint Bicentennial issues feature the Type I design. Now you can add both the original Type I and the improved Type II "D" Mint Bicentennial "Ikes" to your collection in one easy step.