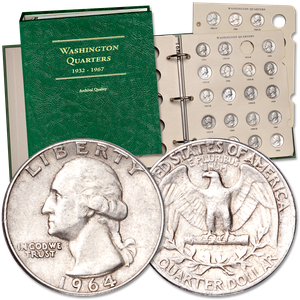 As America's 45th commander-in-chief enters the Oval Office, celebrate America's first president, George Washington – with an exciting set of classic silver quarters! You'll enjoy every 1954-1964 issue from the Philadelphia and Denver Mints – 22 coins in all. These were the last U.S. quarters ever to be struck for circulation in 90% silver! Plus, to make this offer one of presidential proportions, we're including a custom display album. Your set includes:
Uncirculated 1955-D – lowest-mintage Denver issue of this time span, with only 3,182,400 struck!
Uncirculated 1958 – a mintage of just 6,360,000 makes this the lowest-mintage Philadelphia issue in the date range!
Plus, 20 more coins from Philadelphia and Denver, all in Average Circulated condition.
These quarters had low mintages compared to modern issues, and massive silver melts during the 60s, 70s, and 80s destroyed hundreds of thousands. Order now don't wait – some of these coins are hard to come by, and this is a limited-time offer.