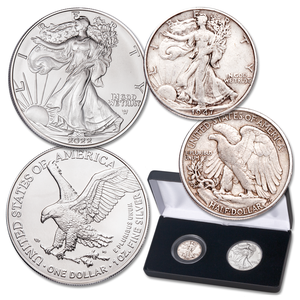 Celebrate the 75th anniversary of the end of the 1916-1947 Liberty Walking half dollar series, with this 2-coin set!
Set includes a final-year 1947 Liberty Walking half dollar and a 2022 American Silver Eagle dollar, struck 75 years later
Both pieces bear one of America's most beautiful coin designs
Created by sculptor A.A. Weinman, the obverse depicts Liberty striding towards the dawn of a new day
Circulated 1947 Liberty Walking half dollar in 90% silver
Uncirculated 2022 American Silver Eagle struck in 1 oz. of 99.9% pure silver
These beautiful coins come encapsulated and in a handsome black leatherette presentation case
Celebrate an important milestone with this special set!